How to ask your Guardian Angel for help
How to ask your Guardian Angel for help – Words of Spiritual Guidance from Padre Pio
Before you fall asleep, consider the choices you made that day and offer a prayer to God. Never forget your guardian angel. He is always beside you and will never leave, even if you forget or mistreat him. How many times have we offended our guardian angels by ignoring their advice! Guardian angels are our heavenly messengers; they're sent by our Father in Heaven to help us.
? Lord Jesus, I'm not always able to show gratitude for the gift of my guardian angel, my faithful protector and life-long companion. Grant me the spiritual sensitivity to hear Your word; let it sprout up in my life. Grant me the ability to hear the invitation to prayer sent by Your holy angels. Amen.
Stay with me, Lord,
because I need You beside me.

Stay with me, Lord,
because I am weak and need Your strength to not fall.

Stay with me, Lord,
because You are my life, and without You I feel lost.

Stay with me, Lord,
because I want to remain faithful to You.

Stay with me, Lord,
because the night is coming, and the darkness, temptations, and suffering trouble me.

Stay with me, Lord,
because I need to recognize You in the breaking of bread, in that light that guides and sustains me.

Stay with me, Lord,
because no other reward could be sweeter than our love – a timeless love, a perfect love, a love for eternity.

Amen.
All rights reserved – © padrepiodapietrelcina.com 2020
---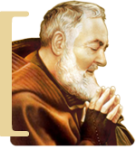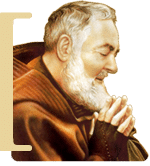 Dear brother, dear sister


if you are reading these pages you have felt the need to meet Padre Pio in your heart.
Every day, with this Blog, we comfort those who are experiencing a
difficult time
or want to strengthen their faith.
Unfortunately, management costs and expenses are high
. Our commitment alone is not enough.
Help us with your support
.
We need double
Help to be able to continue
being online,
we can't do it alone
. If you want our "
mission
" to continue, send your contribution, even symbolic. We do not insert annoying advertisements in our blog,
we do not ask for a subscription fee
, we rely only on your generosity.
If you believe in what we do and if you approve what we publish
send your contribution
, whatever you can/want. Support:
Padrepiodapietrelcina.com Devotional Blog dedicated to Padre Pio
.

Your little support is very valuable for everyone. Thank you
Padrepiodapietrelcina.Com | Spiritual and Devotional Blog dedicated to St Padre Pio of Pietrelcina
.