Are you in the midst of difficult times? Are you afraid you won't get through them? We all struggle with these feelings from time to time. We fear the pain will never stop. We may feel stuck, locked in, trapped. Predestined for failure. Will we ever exit this pit? Yes! Pray, Hope, and Don't Worry.

Here's how you can find strength in tough times by turning to Padre Pio for help
Don't allow any sadness to dwell in your soul, for sadness prevents the Holy Spirit from acting freely.
Lord Jesus, you are the reason for my joy, and will never abandon me to my enemies. When the oppressive darts of sadness, darkness, doubt, discouragement, or fear come at me, stir up the Holy Spirit within me that I may be filled with the light of love, prayer, praise, gratitude, and remembrance of the joy to which I am called with you.
Do not turn in on yourself as so often happens, unfortunately.
In the midst of trials which may afflict you, just place your confidence in our Supreme Good in the knowledge that He takes more care of us than a mother takes of her child. Lord Jesus, when I am tempted to self-reliance in the spiritual battle, please help me to refocus on your victory. When I resist being lifted onto the cross with you, graciously let your strong arms uphold me. Teach me sacrificial love by devotion to your cross.
To refuse to submit one's own judgement to that of others, especially to those who are quite expert in the field in question, is a sign that we possess very little docility and an all too obvious sign of secret pride.
Lord Jesus, please help me to honor those people whom you have placed in authority. Protect me, Lord, from secret pride; make me sensitive to its poison. The height of pride is when my heart withdraws from you, my Maker. Kindly, preserve me Lord, from folly and vice.
The soul that is destined to reign with Jesus Christ in eternal glory, then, must be remodeled by the blows of hammer and chisel. But what are these blows of the hammer and chisel by which the divine Artist prepares the stone, the chosen soul? These strokes of the chisel are the shadows, fears, temptations, spiritual torments and agitation, with a dash of desolation and even physical pain.
Lord Jesus, grant that in tests of faith, and trials of love, I cling to you in faith because you are with me. I desire to entrust myself entirely to your goodness and protection. I ask only for the grace to never displease you. When I fall into temptation, I plead for the grace to get up and start again.
Never lie down to sleep without having first examined your conscience on the way you have spent the day and without first turning your thoughts to God. Then offer and consecrate your whole person and that of every Christian. Offer, moreover, to the glory of His divine Majesty, the rest you are about to take and never forget your Guardian Angel who is always close to you, who never leaves you no matter how badly you treat him. O unspeakable excellence of this good angel of ours! How many times, alas, have I made him weep when I refused to comply with his wishes which were also God's wishes! May this most faithful friend of our save from further unfaithfulness.
Lord Jesus, it is impossible for me to show enough gratitude for the gift of my Guardian Angel, my faithful life-long friend and protector. Please grant me spiritual sensitivity to hear the prompting of your holy angels. At the end of each day, help me to know how my actions honored or dishonored your Majesty.
Drive away what the enemy is whispering loudly in your when he wants you to believe you are almost on the point of being lost. Despite these evil insinuations, the Lord is with you as never before in your tribulations. God tells us. Take heart, then, and don't be afraid, for it is quite certain that the one who fears to be lost will not be lost and the one who fights with his eyes fixed on God will cry victory and the triumphal hymn. There is nothing to be afraid, for the heavenly Father has promised us the necessary help to prevent us from being overcome by temptations.
Lord Jesus, when darkness descends upon my soul. and the evil spirits unrelentingly assail me, grant that I may turn to you with faith, hope and love. I desire to cry, "Victory!" and to praise you always. But, alas, I am weak! Therefore, I will rely on your mercy that never ceases.
May Mary, the Mother of Jesus and our Mother, enable you to understand all that is contained in the great secret of suffering borne with a Christian spirit.
May she obtain for you all the strength you require to climb to the summit of Calvary loaded with your own cross.
Great strength is needed, unfortunately, to follow this path, but take heart, for the Savior will never leave you alone or without his help.
O Mary, in my joys and sorrows, help me to echo your hymn of gratitude, the Magnificat. Please hold me hand at the foot of the Cross so I do not run away.
No matter how great the trial to which the Lord is to subject you, no matter how unbearable your spiritual desolation at certain moments of your life, never lose heart.
Have recourse with more childlike trust to Jesus who will never be able to resist bestowing on you some little solace and comfort. It is true that God's power triumphs over everything, but humble and suffering prayer prevails over God Himself. Lord, you are my strength and salvation. I believe that you will not abandon me to the netherworld. I am yours and you are mine. Be glorified in me, a poor sinner.
---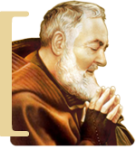 Dear brother,
Dear sister
if you are reading these pages you have felt the need to meet Padre Pio.
Every day we strive to be present online with this blog comforting and encouraging those who are in difficult moment in their life. This blog, unfortunately, involves high management costs and expenses. Help us with your support, our commitment alone is not enough.

We need double Help to be able to continue being online, we can't do it alone. If you want our "mission" to continue, send your contribution, even symbolic. We do not insert annoying advertisements in our blog, we do not ask for a subscription fee, we rely only on your generosity.
If you believe in what we do and publish send your contribution, whatever you can/want. Support: Padrepiodapietrelcina.com Devotional Blog dedicated to Padre Pio.
Your little support is of great value for everyone. Thank you
Padrepiodapietrelcina.Com | Spiritual and Devotional Blog dedicated to St Padre Pio of Pietrelcina
.