The historic city center of Pietrelcina is characterized by the "Castello" district, a small neighborhood with medieval origins. To enter this area, you must go through the "Portal of the little Madonna" (la Porta Madonnella). This door houses an old window frame which has been bricked in. It was decorated with 30 panels of Maiolica tile that have depictions of the Virgin Mary, Saint Anthony of Padua, and Michael the Archangel. These Maiolica tiles are likely from the 18th century. Padre Pio came here to unite in prayer with the inhabitants of the Castello district and to recite a novena to the saints.
Padre Pio passed by the "Portal of the little Madonna" every day on his way to school, to church, or to the farm in "Piana Romana". His job there was to lead a small flock of sheep out to graze.
The Portal of the little Madonna in Pietrelcina (Porta Madonella) is where Padre Pio formed his first prayer group; he always gathered a large group of people together to pray the Rosary to Mary, especially in the month of May. "Would that I had the loudest voice so I could invite all the sinners in the world to love Mary. But, since that is not in my power, I always pray to my guardian angel to do that job for me."
All rights reserved – © padrepiodapietrelcina.com 2020
---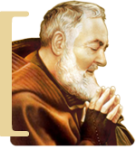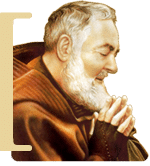 Dear brother, dear sister


if you are reading these pages you have felt the need to meet Padre Pio in your heart.
Every day, with this Blog, we comfort those who are experiencing a
difficult time
or want to strengthen their faith.
Unfortunately, management costs and expenses are high
. Our commitment alone is not enough.
Help us with your support
.
We need double
Help to be able to continue
being online,
we can't do it alone
. If you want our "
mission
" to continue, send your contribution, even symbolic. We do not insert annoying advertisements in our blog,
we do not ask for a subscription fee
, we rely only on your generosity.
If you believe in what we do and if you approve what we publish
send your contribution
, whatever you can/want. Support:
Padrepiodapietrelcina.com Devotional Blog dedicated to Padre Pio
.

Your little support is very valuable for everyone. Thank you
Padrepiodapietrelcina.Com | Spiritual and Devotional Blog dedicated to St Padre Pio of Pietrelcina
.