Padre Pio, with this prayer protect doctors, paramedic, nurses, healthcare workers and volunteers from Coronavirus (covod-19) – Turn your gaze unto the resuscitation departments of hospitals and outpatient clinics where patients are treated – Jesus Christ is our supreme healer and he works through doctors, nurses and health professionals to help restore our health here on earth.
---
Prayer for protection and thanksgiving for Doctors, Paramedic, Nurses and Healthcare Workers
Padre Pio, I am here in prayer and I ask you to protect doctors, nurses and healthcare personnel from all over the world against Coronavirus (covid-19) and other diseases, especially those which are contagious.
In these days of the Coronavirus (covid-19) emergency, they put their lives at risk to save others and do their utmost to help and assist those who are suffering, separated from their loved ones.
They spend days and nights in hospitals and clinics, where the flow of patients awaiting treatment is constant.
They do an extraordinary job to prevent and treat any type of disease and are exposed to the danger of contagion every day during their work – Padre Pio, guide them in making the correct diagnoses, let their treatments and therapies be successful, bringing patients of all ages to recovery.
Please, Padre Pio, when their strength wanes, strengthen them; when their hopes fade, encourage them; when their faith falters, renew it. Padre Pio, please protect them and their families. Guide their lives outside the hospitals. Let their hearts be open to always help others without expecting anything in return. O Almighty God You are our supreme healer – Let doctors, nurses, and healthcare professionals maintain their trust in your healing power.
They are our earthly healers, especially during this Coronavirus (covid-19) pandemic. O God our Father bless the doctors, nurses and health personnel for all the sacrifices they make for the good of their patients. Amen
All rights reserved – © padrepiodapietrelcina.com 2020
---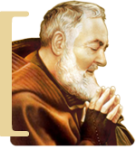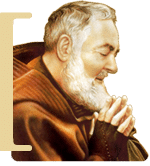 Dear brother, dear sister


if you are reading these pages you have felt the need to meet Padre Pio in your heart.
Every day, with this Blog, we comfort those who are experiencing a
difficult time
or want to strengthen their faith.
Unfortunately, management costs and expenses are high
. Our commitment alone is not enough.
Help us with your support
.
We need double
Help to be able to continue
being online,
we can't do it alone
. If you want our "
mission
" to continue, send your contribution, even symbolic. We do not insert annoying advertisements in our blog,
we do not ask for a subscription fee
, we rely only on your generosity.
If you believe in what we do and if you approve what we publish
send your contribution
, whatever you can/want. Support:
Padrepiodapietrelcina.com Devotional Blog dedicated to Padre Pio
.

Your little support is very valuable for everyone. Thank you
Padrepiodapietrelcina.Com | Spiritual and Devotional Blog dedicated to St Padre Pio of Pietrelcina
.