Biography of Padre Pio of Pietrelcina
| | |
| --- | --- |
| Born | Francesco Forgione 25 May 1887 – Pietrelcina, Benevento, Kingdom of Italy |
| Died | 23 September 1968 (aged 81) – San Giovanni Rotondo, Foggia, Italy |
| Beatified | 2 May 1999, Saint Peter's Square, Vatican City by Pope John Paul II |
| Canonized | 16 June 2002, Saint Peter's Square, Vatican City by Pope John Paul II |
| Major shrine | Sanctuary of Padre Pio of Pietrelcina, in San Giovanni Rotondo, Italy |
| Feast | 23 September |
Padre Pio, Francesco Forgione, or also known as Pio da Pietrelcina, was born in that locality of Italy in 1887, in the bosom of a humble family and very devoted to the Catholic religion. As a child he showed that he was a fool and had no trouble doing penance in favor of God.
His health was very fragile, he was always sick. From a very young age he wanted to become a priest, after meeting a Capuchin monk in the convent of Morcone, Fray Camillo, who came to his house asking for alms. The boy's friends and neighbors testified that he suffered from "demonic encounters" and that more than once they saw him fighting with his shadow.
At 16 he decides to become a friar. His teacher was Father Tommaso, stern but with a big heart, with a lot of charity to the internees. Life there was very hard, he had to fast for long periods, and that changed his character and spirit. His illnesses were increasing and he would never be abandoned. In 1904 he pronounced his temporary vows and moved to another convent.
In 1907 he made his permanent vows and had to leave for another enclosure, near the sea, something that did not do him good because his health worsened, so he had to return. In 1910 he settled in Benevento and in 1916 he was sent to the convent of San Giovanni Rotondo, where he lived until his death in 1968, 50 years after receiving his first stigma.
During his life he suffered a total of five stigmas throughout the body, corresponding to the five wounds that Jesus had on the cross. They bled him for half a century, but he never got anemic. It was also said that Pio had the ability to be in two places at the same time, that he could perform miracles and that he was clairvoyant.
Padre Pio In 1915 he felt strong pains in his feet, his hands and on the right side of his torso. The doctors could not find the reason for this ailment. Three years later, letting out a scream of agony and falling to the ground, he began to bleed in these places, appearing the first stigmata.
After regaining consciousness returned to their tasks and doctors began to analyze their case, but without getting the real reasons for what happened. The authorities ordered that he be photographed so that the event could be recorded.
In these images you can see Father Pio with a great expression of sadness, very pale, with his face tired and tortured, but also with much shame for having to pose with his bloody hands.
Once the initial clamor diminished a little Pius returned to his monastery, where many times he felt transported by a great ecstasy that concluded in these hemorrhages, which did not harm his health.
From then on, the fame of the saint of this man spread throughout Italy. Hundreds of people came from far away to meet him and to confess with him. Many of them said that the pastor knew their sins before they were told. On September 20, 1968, Padre Pio celebrated 50 years of suffering the stigmata, celebrating a mass. His faithful placed around the altar 50 large pots with red roses, for their 50 years of blood.
Three days later, on September 23, 1968, Padre Pio died at the age of 81. His funeral was so multitudinous that he had to wait four days for the crowd of people to pass by. It is estimated that there were more than 100,000 participants at the funeral.
All rights reserved – © Padrepiodapietrelcina.com 2020
---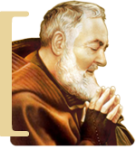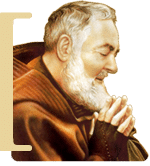 Dear brother,
Dear sister
if you are reading these pages you have felt the need to meet Padre Pio.
Every day we strive to be present online with this blog comforting and encouraging those who are in
difficult moment in their life
. This blog, unfortunately, involves high management costs and expenses.
Help us with your support
, our commitment alone is not enough.
We need double
Help to be able to continue
being online,
we can't do it alone
. If you want our "
mission
" to continue, send your contribution, even symbolic. We do not insert annoying advertisements in our blog,
we do not ask for a subscription fee
, we rely only on your generosity.
If you believe in what we do and publish
send your contribution
, whatever you can/want. Support:
Padrepiodapietrelcina.com Devotional Blog dedicated to Padre Pio
.

Your little support is of great value for everyone.
Thank you
Padrepiodapietrelcina.Com | Spiritual and Devotional Blog dedicated to St Padre Pio of Pietrelcina
.