Going to Pietrelcina and San Giovanni Rotondo in Italy is like going to the heart of St Padre Pio.
Born on May 25, 1887, Francesco Forgione lived in Pietrelcina till he was 15 years old. In his own words, "It all happened here". When he was five years old, he started to have the first apparitions of Jesus, Mary and other saints, along with diabolic attacks against his own life.
In nearby Piana Romana, he received for the first time the Stigmata of Jesus, but prayed hard for these to be taken away from him, and even though they were not seen, he always felt their pain.
He was often sent back home because of his poor health, until he found the Capuchin Friary on the Gargano mountains suitable for him. He stayed here until his death on September 23, 1968, more than 50 years bearing the five wounds of the Crucified Lord which he received definitely on September 20, 1918.
San Giovanni Rotondo treasures his cell, the crucifix, relics, and his remains in the crypt of a new church dedicated to him, built on the design of Renzo Piano. The Way of the Cross and the hospital are not to be missed, as they bring out Padre Pio's charisma, spirituality and mission.
All rights reserved – © Padrepiodapietrelcina.com 2020
---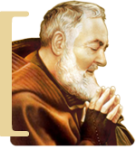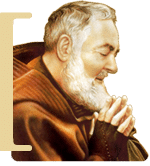 Dear brother,
Dear sister
if you are reading these pages you have felt the need to meet Padre Pio.
Every day we strive to be present online with this blog comforting and encouraging those who are in
difficult moment in their life
. This blog, unfortunately, involves high management costs and expenses.
Help us with your support
, our commitment alone is not enough.
We need double
Help to be able to continue
being online,
we can't do it alone
. If you want our "
mission
" to continue, send your contribution, even symbolic. We do not insert annoying advertisements in our blog,
we do not ask for a subscription fee
, we rely only on your generosity.
If you believe in what we do and publish
send your contribution
, whatever you can/want. Support:
Padrepiodapietrelcina.com Devotional Blog dedicated to Padre Pio
.

Your little support is of great value for everyone.
Thank you
Padrepiodapietrelcina.Com | Spiritual and Devotional Blog dedicated to St Padre Pio of Pietrelcina
.